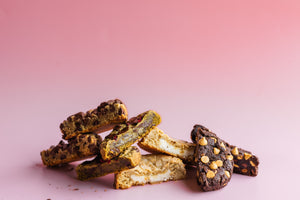 HAND CHIPPED FOR YOU.
QUARANTINE COOKIE
SEPTEMBER FLAVORS
SAMOAS (CARAMEL & TOASTED COCONUT)
SEPTEMBER FLAVORS
BANANA NUT BREAD
SEPTEMBER FLAVORS
OG CHOCOLATE CHIP
SEPTEMBER FLAVORS
KINDER BUENO (nutella filled)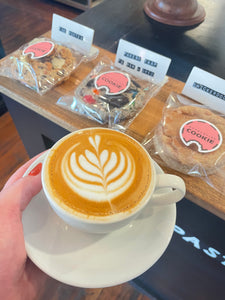 The cookies.
Our cookies are inspired by the people and world around us. Delicious, high quality ingredients are used to develop each cookie that is made especially for you. Here you can find our story and meet the people that make our brand what it is. Quarantine cookie offers a variety of rotating, seasonal flavors. Each batch of cookies is mixed, baked, and packed for you specifically. We strive to provide each cookie fan with an amazing experience!
The love.
Quarantine Cookie was started amidst the pandemic in our tiny NYC apartment. What originally had started as a midnight snack craving, quickly turned into a scrumptious business venture. After that first bite, we knew immediately that we wanted to share these with our friends and family.
Quarantine Cookie is focused on providing gourmet baked goods to locals in Kansas City, along with shipping nationwide. We hope to share the love with as many cookie fans as we can. Elee and Abel are the heart behind these delicious cookies.